Index Performance for February 2011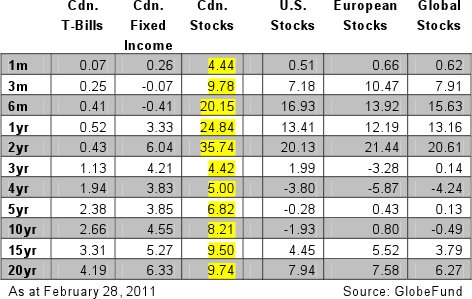 What was the top performing asset class for the last twenty years?
Canadian stocks were the top performing asset class for all periods ranging from one month to twenty years. In fact, over the twenty year period, Canadian stocks outperformed the next best performing asset class, U.S stocks, by 1.80% on a compounded basis. In fact, stocks from Canada, the United States and Europe dominated the top three categories over the last twenty years. Over time, patient investors have been rewarded with substantial returns over this lengthy period as they have moved up the risk curve and invested in a more volatile asset class. Over time the higher level of volatility has been compensated by much higher levels of returns. Is the buy and hold strategy really dead? I do not think so.
Canadian fixed income investments have performed poorly over the three month and six month time frames, which were reflected in the deteriorating performance over the longer time frames. The Canadian dollar also has experienced rapid appreciation, which also partly accounts for the better performance of Canadian stocks against other equity investments. Some negative performance was reported in the four year and ten year time frames for most equity classes with the exception of Canadian stocks. The two year number for stock classes is now looking especially strong as the aftermath of the recession is now behind us. For those investors that stayed committed to their long term asset allocations, they have been rewarded by some substantial returns.
Outlook for Investing for the balance of 2011.
Volatility will be ever present in 2011 as financial markets continue to digest the ups and downs of a slow recovery for North America, which is juxtaposed to a burgeoning recovery in the Pacific Rim. Increased volatility in the Middle East and dynamic disturbances from Mother Earth will continue to challenge investors' convictions in 2011. Interest rates will be heading up in 2011 as continued signs of a recovery point to an improvement in the pace of growth. Corporate earnings are continuing to look strong on a year over year basis, but some sectors will certainly be enjoying stronger growth outlooks than others. Good investing for 2011.
---
Robert Floyd, CFA, is Lead Manager for BirchLeaf Investments (www.birchleafinvestments.com)